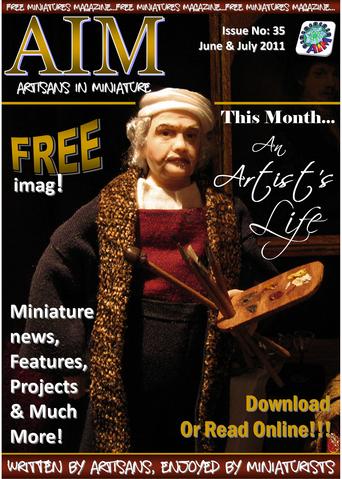 I
t's that time of the month again (well, I'm a little late, it's been a busy week) - the new AIM magazine is out!

This month's theme is 'An Artist's Life' - 122 pages of fabulous miniatures! The wonderful galleries feature everything art-related: artist dolls and their models; dolls and scenes inspired by famous paintings and portraits; art studios and equipment, including easels, drawing instruments, sculptor's materials, painting supplies, and still-life settings. Sally Watson explores the world of grafitti and wall art, and Linda Master gives us a look at her gorgeous fine wood frames.

I found Janet Granger's article on "Colour Theory & Interior Design for Your Doll's House" to be especially useful, as well as Pearl Hudson's article about using trompe l'oeil effects to add depth and detail to your miniature settings. Some very fascinating info in both.

Free projects this month: a tutorial and printies for a "plein air" painting set, a pretty parasol, a rustic easel, printable paintings, a knitted lace pram blanket, and part 2 of the retro lingerie set.

The editorial staff of the AIM Magazine will be taking a well-deserved summer break, so we'll be back again in August with the next issue!

The AIM magazine is a FREE monthly dollhouse & miniatures magazine brought to you by the members of Artisans in Miniature. Packed with articles, galleries, tutorials, and miniature news! Regular features include show reports, member profiles, featured blogs, artist interviews, and smaller scales. Read it online or download it at http://www.artisansinminiature.com.