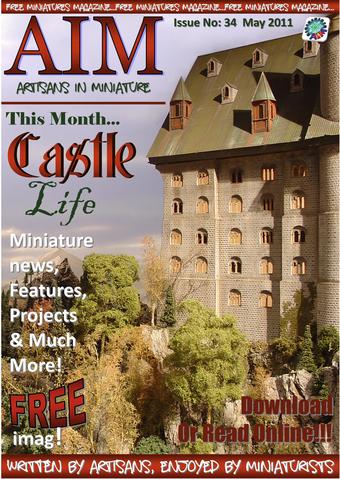 T
his month I wrote an article for the AIM magazine, "The Art of Illumination." It's a brief history of medieval illuminated manscripts and the tools and techniques of their creation. I hope that you will take a look!

The theme this month is 'Castle Life' - 140 pages of gorgeous miniatures! If you like castles, you're going to love this issue - magical castles, historical castles, smaller-scale castles, real-life castles, and a whole gallery of castle rooms, castle dolls, and castle accessories (including some of my books). Learn about the history of wall-hanging tapestries, the labors of the medieval baker, and the inspirational life of Queen Elizabeth I.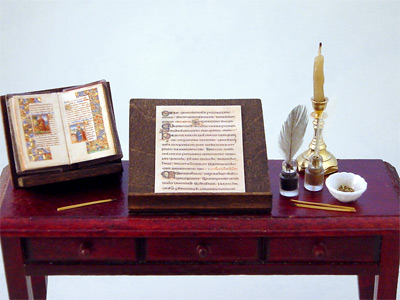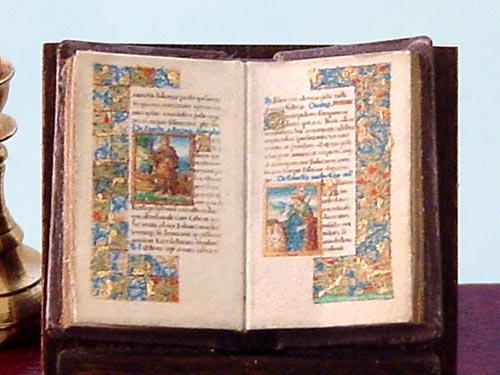 Pictures from "The Art of Illumination" by Grace Griffin

You also don't want to miss Jane Laverick's hilarious article, "The Agony & the Ouchstacy." Her humorous take on the surprisingly dangerous work of the professional miniaturist had me rolling on the floor. She even made the story of how I cut the end of my finger off seem much funnier than I remember it...


Grace stumbled around with paper towels clamped over her hand looking for the duct tape. I'll repeat that - looking for the duct tape. See now, this is the real danger with miniaturisation - it can lead you into extreme DIY.

(I was pleased to find that I'm not the only DIYer in the miniatures world, although I did finally end up going to the hospital, unlike some others you'll read about.)

Free projects this month: knitting a chain mail helmet, a printable castle room box in three scales, retro lingerie, and Part 3 of CJ Cormier's thatched roof project.

The AIM magazine is a FREE monthly dollhouse & miniatures magazine brought to you by the members of Artisans in Miniature. Packed with articles, galleries, tutorials, and miniature news! Regular features include show reports, member profiles, featured blogs, artist interviews, and smaller scales. Read it online or download it at http://www.artisansinminiature.com.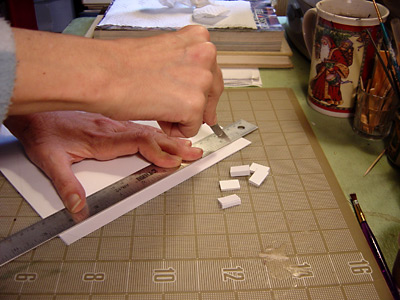 "Cutting off the end of her finger was just the start for Grace, who has kindly demonstrated in the photograph exactly how to cut your finger off with a craft knife." - from "The Agony & the Ouchstacy" by Jane Laverick