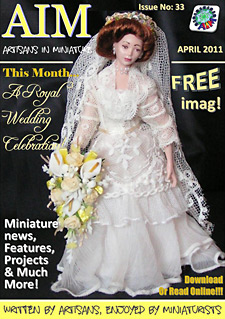 I
'm excited to have some of my work published in this month's edition of the AIM magazine! My wedding album set is included in the "Bridal Boutique" - twice, actually - in a beautiful arrangement by Peiwen Pettigrand of Oiseau de Nim on page 22, and in my own photo on page 25. My New Mexican patio scene 'Sanctuary' is in the "Rooms for Relaxation" article by Sally Watson on page 101. Check them out!

This month's theme is 'A Royal Wedding Celebration' - 139 pages of fabulous miniatures! There is a spectacular showcase of bride dolls, as well as galleries of wedding dresses, bouquets, cakes, and miniature royal weddings, all made by the members of AIM. Editor Bea Broadwood takes a look at the wedding gowns of British royal brides from 1840 to today, and Jean Day writes about historical wedding etiquette.

Spring is not left out! There is a delicious showcase of Easter goodies - chocolates, colored & decorated eggs, cupcakes, and cakes. Flowers and plants are featured as well in articles about the history of indoor plants, the history of orchids, and the heritage of the modern conservatory.

Rooms of the house are also given a closer look: the Scullery is finally given its due, and Sally Watson investigates the areas of the home where we relax and unwind - patios, gardens, porches, and even the treehouse! She also gives us a look at miniature rooms in unusual containers such as clock cases, wine boxes, terrariums, bird cages, and garden lanterns.

Free projects this month: wedding bouquets, part 2 of creating an authentic thatched roof, making a faux carved-wood finish on furniture, a wicker chair, and retro dresses.

The AIM magazine is a FREE monthly dollhouse & miniatures magazine brought to you by the members of Artisans in Miniature. Packed with articles, galleries, tutorials, and miniature news! Regular features include show reports, member profiles, featured blogs, artist interviews, and smaller scales. Read it online or download it at http://www.artisansinminiature.com.