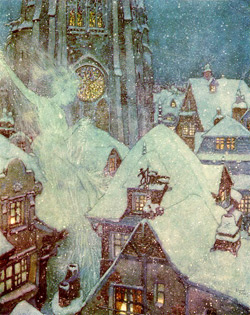 W
hy does snow seem to follow me around? Everywhere I go, the snowfall follows...

"Oh sure," said Mary, "move here to southern Indiana, we hardly get any snow in our area - no more than an inch now and then, and it melts right away!" Snow so far this winter: 24.5 inches. That includes the 4" that fell yesterday. And we're supposed to get more ALL next week!

The mountains around Albuquerque, New Mexico, generally get a lot of snow, but not much usually falls in the town itself. Of course the first winter after I moved back in 2002 there was so much snow it caused the biggest rush on snow shovels the city had ever seen. The stores were completely unprepared and soon ran out. When one store managed to get 200 more shovels in, it was announced on the news and they were all gone in a flash. I had to make do with my garden shovel that's missing a chunk.

The year I moved to Bretagne, France, I was assured that they had very mild winters with little to no snow in the coastal town where I was to live (why do I keep believing people who say that?). I used my valuable suitcase space for things other than heavy winter gear. Well you can guess what happened - yes, for the first time in ONE HUNDRED AND EIGHT YEARS the area was hit by blizzards and we were buried in snow all winter long! At one point there was black ice so severe it completely shut the town down for three days - it coated everything, a continuous sheet covering the streets, parked vehicles, sidewalks, and anything else that happened to be outside. My friends and I were in a cafe when it all froze over, and couldn't even get back to their apartment because it was uphill. After a half hour of crawling up the icy hill and sliding back down again, we gave up and slid our way to another friend's place. It turned out a number of people had sought refuge there, so we all spent three days eating them out of house and home and watching zombie movies.

Things I learned: zombies sound pretty much the same in French, and no, you can't make a single omelette with 24 eggs at once.

In the bleak mid-winter
Frosty wind made moan,
Earth stood hard as iron,
Water like a stone;
Snow had fallen, snow on snow,
Snow on snow,
In the bleak mid-winter,
Long ago.


'Mid-Winter' - Christina Rossetti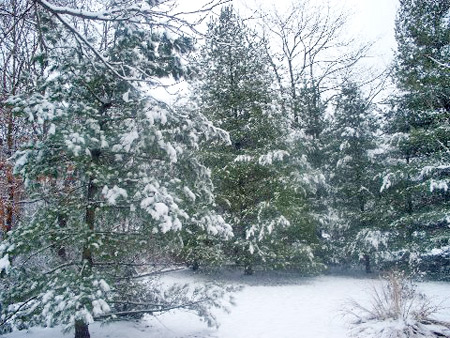 Illustration (top): Edmund Dulac, from The Snow Queen
Photo: taken last week by my niece, Amber