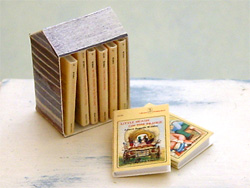 L
aura Ingalls Wilder's classic books helped foster my love of reading as a child. I found the first one in a bookstore when I was four years old and pestered my mother to buy it for me - the first "big kid" books I ever read on my own! All these years later I still love to read them on occasion. Garth Williams's illustrations for these and other books (

Charlotte's Web

,

Stuart Little

, etc.) were such a part of my childhood, I still find them inspiring. Wish I could be at this auction!
Iconic Little House on the Prairie Artwork Readies for Illustration Art Event at Heritage Auctions

BEVERLY HILLS, CA.- Famed illustrator Garth Williams' original graphite 1953 cover art for Little House on the Prairie by Laura Ingalls Wilder – familiar image to anyone that has read the classic books since the Fifties – will be part of Heritage Auctions' Feb. 11 Signature® Illustration Art Auction in Beverly Hills. It is expected to bring $8,000+ and joins 99 other Little House drawings, spread across 30 lots, in the auction.

"So many of us saw America's heartland through the eyes of Garth Williams, through these exact drawings," said Barry Sandoval, Director of Operations of Comics & Comic Art at Heritage, "and the cover is the most famous of them all. With his wonderful soft-pencil art, Williams conveyed the majesty of the prairie, but also the warmth of a family that had to stick together through all of its hardships."

Williams' scenes of the close-knit frontier family and all of their hardships have become accepted as the definitive versions, though they did not see print until the early 1950s, when they replaced the extremely stylized versions by Helen Sewell that had been used since the 1930s.

Read more...