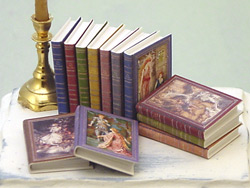 T
reausry alert! My 12-volume set of Andrew Lang's Coloured Fairy Books has been included in a treasury curated by Elficious, If I could shrink myself into a fairy... She's put together all sorts of wonderful magical items for your home, garden, and dollhouse!

My minis have been in two other treasuries this month, too:

Swedish Hearts by AnnasAdornments includes my miniature Swedish Straw Heart Christmas Ornaments.

Enchanted Story Time... Creating Nostalgic Memories with Your Kids by TforEdgar includes my Chronicles of Narnia 7-volume book set.

Thank you to all of you! :)

You can purchase these items on my website!