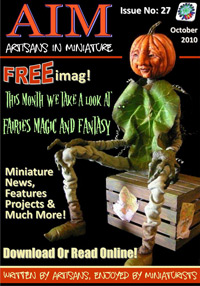 T
his month I have an article in the October edition of the AIM magazine! In "Things That Go Bump in the Night" (I'm so excited!) I take a look at our love of being scared and the origins of Halloween. The accompanying photos of spooky miniatures are just fantastic.

This month's theme is Fairies, Magic and Fantasy, heavy on the Halloween, of course. 128 pages packed with articles, galleries, tutorials, and miniature news. I really enjoyed the gallery of witch hats, and Jean Day's article on Fairy Illustrators. I also got a real kick out of Francesca Cavernuccio's 1:44-scale fruit & veggie homes featured in "Smaller Scales: Harvest & Halloween." Also, on the list of Things I Want: Vicky Guile's awesome pumpkin candelabra (you can see it in the "Potion-ology in Practice" article on page 55.)

Free projects this month: a 1:48-scale crocheted cardigan & cap, a crocheted lace table cloth (1:12 & 1:24), 1:144-scale crystal chandelier, and a sailor blouse. There are also plenty of Halloween goodies like no-sew cushions, an adorable "peeking" hat, a smaller-scale Halloween tree, and glamorous witchy clothing.

Special thanks this month to assistant editor Vicky Guile for filling in for editor Bea Broadwood. Great job, Vicky!

The AIM magazine is a FREE monthly dollhouse & miniatures magazine brought to you by the members of Artisans in Miniature. Packed with articles, galleries, tutorials, and miniature news! Regular features include show reports, member profiles, featured blogs, artist interviews, and smaller scales. Read it online or download it at http://www.artisansinminiature.com.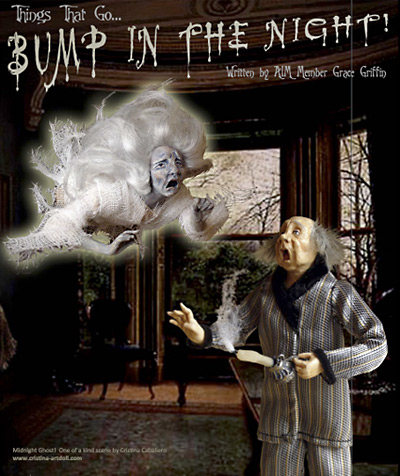 Midnight Ghost!
scene by
Cristina Caballero