Been busy at work on new miniatures this week, and first up I've got three new books sets for you! You can fill up the shelves of your dollhouse with these beautiful volumes of Agatha Christie's "Miss Marple" detective stories and Herman Melville's novels.


For the nursery, one of my very favorite childhood collections: Andrew Lang's Coloured Fairy Books. I designed these covers to look like leatherbound volumes, each in the appropriate color. Cover illustrations are by beloved artists of the era such as Henry J. Ford, one of the original illustrators of the Fairy Books.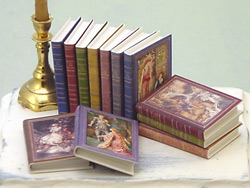 These new sets are already listed on my website, and I'll soon be adding them to my Etsy store.
There's new Nautical minis and a slew of Christmas stuff on the way, just as soon as I get the photos done!