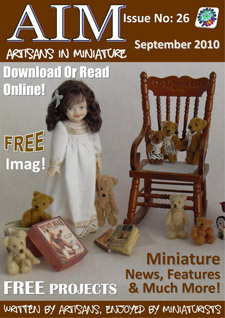 I
'm thrilled to have some of my miniatures in the September edition of the AIM magazine - eight of them, actually! You'll find them in Sara Scales's fascinating story about a Victorian mining school, in the fashion feature, and in several articles and galleries about childhood pastimes. So exciting! :)

This month's theme is Childhood Nostalgia and features a look at childhood pastimes, fashion, and memories. 144 pages packed with articles, galleries, tutorials, and miniature news! I LOVE Jean Day's article about Noah's Arks - one of my favorite childhood toys, and they're just amazing in mini! There are gorgeous examples by Patricia Paul and Linda Master for you to ooh and ahh over. Jean even includes a few printable Victorian children's book covers for you to enjoy.

Free projects this month: a leather school satchel, a sailor blouse & sun suit, fried chicken, knitting patterns, and a Steampunk-inspired ceiling treatment.

The AIM magazine is a FREE monthly dollhouse & miniatures magazine brought to you by the members of Artisans in Miniature. Read it online or download it at http://www.artisansinminiature.com.