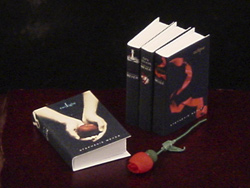 I've had several requests for this, and I'm thrilled to be listing it in the store: the entire
4-volume Twilight book series
! All you vampire fans out there be sure and grab a set for your miniature library.
I've also added several other new miniature books to the inventory, including a gorgeous original-design
Astronomy
book that's sure to impress and some classic
1940s science-fiction
.
For the kids' rooms there's a beautiful new Victorian fairytale,
'Princess Nobody,'
and one that's been on my List a long time -
Pippi Longstocking
! I've created this one with the original Swedish title (Pippi Långstrump) as well as an English version. You can even get it in Danish, Norwegian, or Finnish!
These miniature books all have blank pages, but they do open for display if you so desire. Stop by the
store
and take a look!