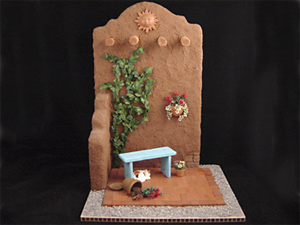 This scene was kind of inspired by a couple of my Small World friends, Tallooley and Brenda. Tallooley made the beautiful geraniums for me a while back to go on this patio. Later she sent the even more fabulous geranium & ivy combo that's now on the wall, and the first geraniums were moved to a pot on the ground.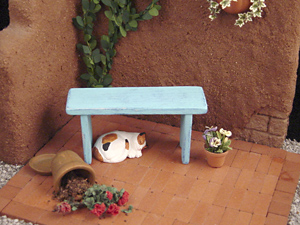 As I was pondering what sort of scene this patio seemed suited for (I hadn't really thought any further ahead than the geraniums at that point), my eyes happened to land on the little cat Brenda made.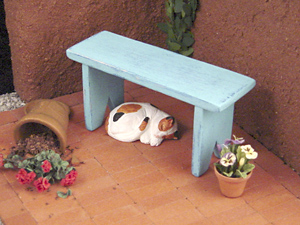 Now, I'm not saying that when I think "Brenda" I automatically think "mischief," but the next thing I knew the pot was tipped over, dirt and flowers and pot shards were everywhere, and that darn cat was sleeping under the bench like nothing had ever happened. I just hope Tallooley doesn't mind that her geraniums suffered such a fate!

The scene still needs some finishing details like red trumpet flowers on the vines, and the lizard and some cacti and other bits & pieces, but you get the idea. I've posted it in the Gallery on my website, and I'll add new photos when it's finished.