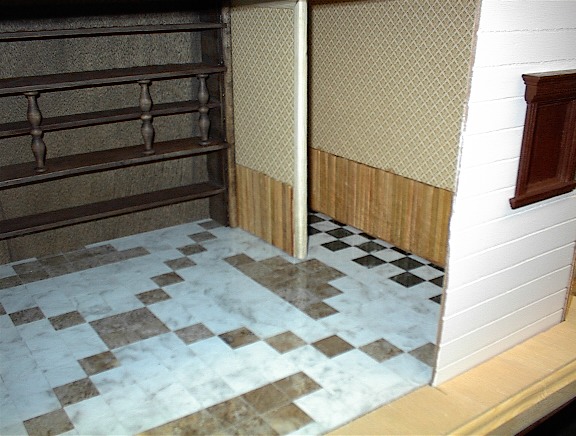 This month's tutorial is from Steve Bailey of Marietta, PA. (check out his previous tutorial for building a miniature house from scratch.) Here Steve explains how to make a variety of floors for your rooms using wood veneer or vinyl tiles. Click on the photos for a larger view.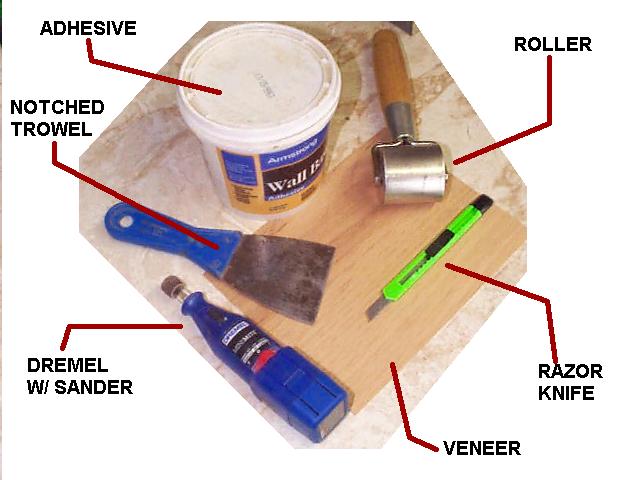 I will try to show two types of floors I make for my houses. The first is wood made from scraps of veneer that I got on eBay. The second is regular vinyl flooring. You can get the 12" odd pieces at your local builders supply store for less than $1 each.

First is some of the tools that I use for making and installing the floors: adhesive, notched trowel, dremel with sander, roller, razor knife, and veneer.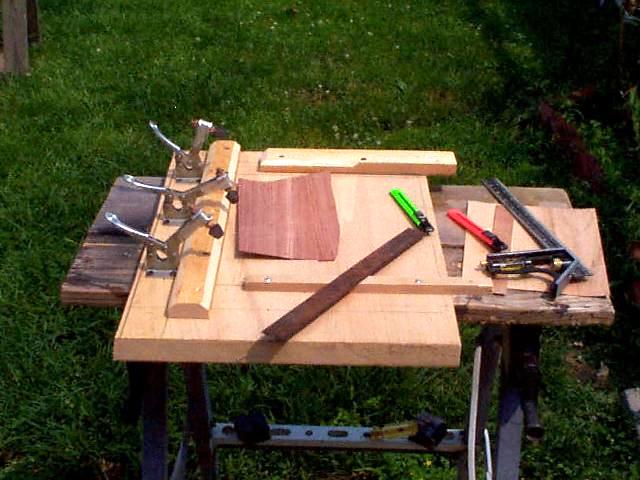 This is the jig I made from scraps of wood to cut the flooring. The 3 hold-down clamps are available at your local building supply or hardware store. The metal ruler I use is convenient to use because it is 1" wide.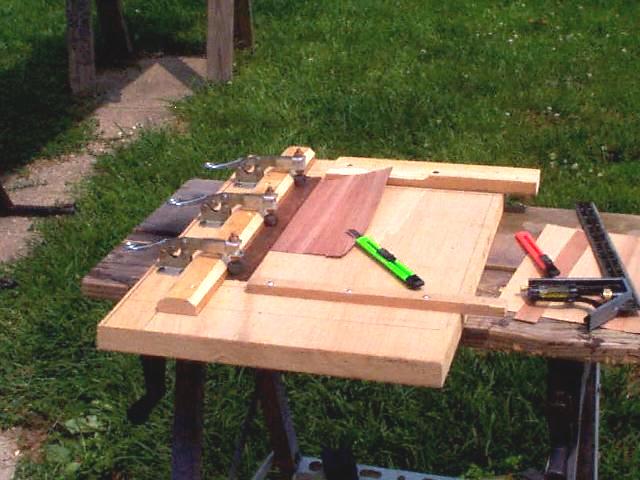 Here you see a piece of veneer in the jig, being held down by the ruler and clamps. Once you have it clamped down, just run the knife down the edge of the ruler, cutting the veneer into 1" strips.

NOTE: This is the same for vinyl flooring, but you may have to use a stronger knife, like a box cutter. For vinyl, score it several times and then just bend it to snap it off. You may have to clean up the edges with a knife or sandpaper. Once you have cut the vinyl into 1" strips, you can then cut the strips into 1" tiles.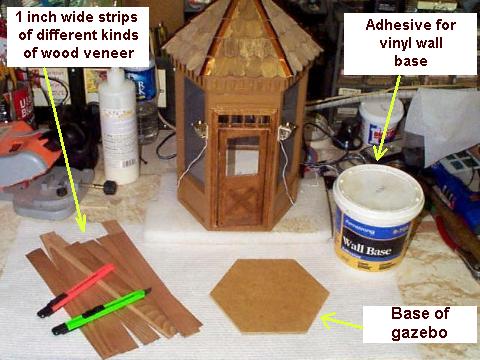 This photo shows how I did the floor in my gazebo using the wood veneer strips. You see that I am using wall base adhesive. That is only because someone gave it to me! Any flooring glue or contact cement works just as well. Just make sure you roll the flooring flat once you have laid it in place, and keep a weight on it until it drys.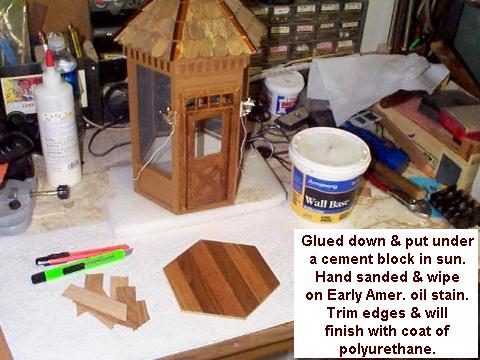 Wood veneer come in a variety of colors, so you can make any pattern you like with the strips. Trim the ends to fit the base. When dry, hand-sand with 150 grit sandpaper, then stain & clearcoat.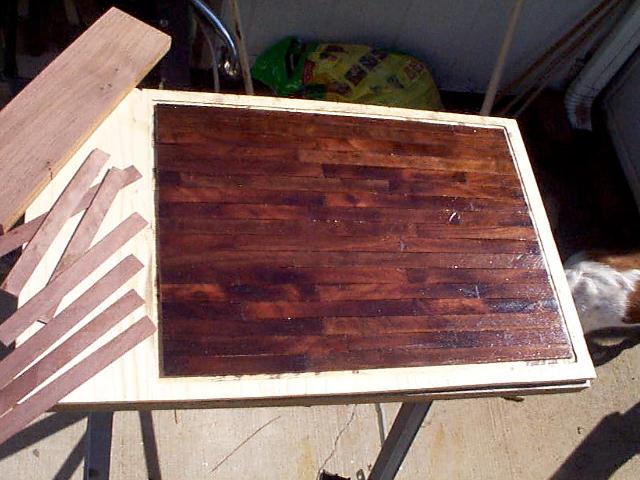 On this floor, I used dark walnut veneer. When done, I added tiny brass nails to accent the floor. You can purchase miniature nails from most dollhouse shops or online stores.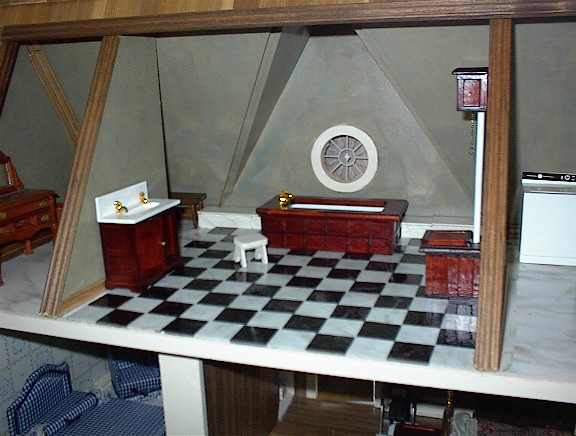 This is one of the vinyl floors. This is sticky-back flooring, so in theory no additional adhesive is required, but I noticed that if you have just a tiny bit of dust on the floor, the vinyl won't stick very well. There are several things that I came up with to counteract this. One was to paint the floor with an enamel paint first. Also I used a coat of real tile cement that they use to put tile down in you house. Don't ever try to take the tile up to change it, because you will damage the floor trying to get it up!

What finally worked best for me was to lay a piece of newspaper in the room and use an Xacto knife to cut around the edges. Then I laid the self-stick tiles on the paper. I like this because if I ever want to change the floor, I can just lift the whole sheet out in one piece. I put a couple of small pieces of double-sided tape on the bottom of the paper to hold it in place. The paper is thin and does not raise your floor up like posterboard or cardboard would. Also, you can lay the tiles on the paper outside the room and then lay it in when you are done. You can even cut it in half or into smaller sections if you have hard to reach places.



This is just an example of some of the layouts you can create using vinyl flooring tiles. I dry-fit them first, take a photo of it, and then use that as my pattern when I install them.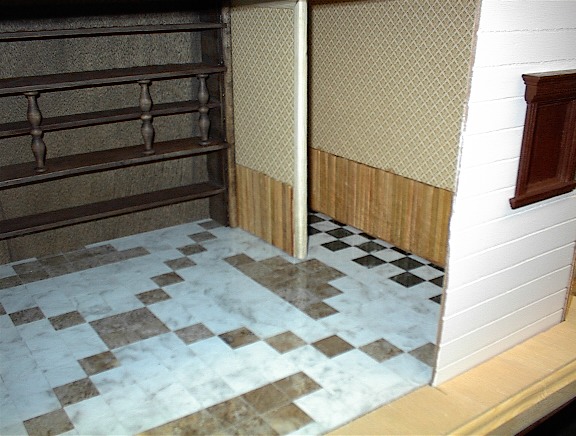 This is the design for the floor in my barber shop, made with vinyl tiles. There are about a million combinations you could come up with!