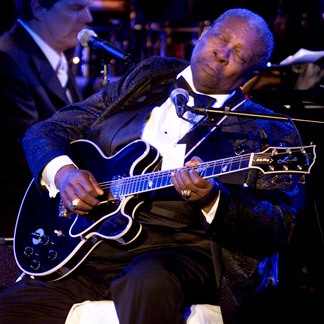 Last night I saw legendary B.B. King in concert. It was one of the best shows I've ever been to... the guy is just AWESOME! At 83 the shows may be a little shorter, but he can still make that guitar sing like nobody's business. When he lets loose singing, his voice is as powerful as ever, still full of passion. And his face - oh, I love his face! Probably the millionth time he's played some of those songs, but he still seemed just as in love with the music as the very first time. The band, I must add, was fabulous! They clearly adore him; the drummer didn't even flinch when B.B roared out, "Don't rush me! I carry a knife, and I cut drummers!"

That was one thing I really loved about the show - B.B. and his band seemed to be having so much fun, and enjoying the music and each other and the audience so much, being there was like a real "moment," not just passive witnessing of a performance. I feel so grateful to have had the chance to see him. And inspired!

And much less disturbed by my upcoming 40th birthday, which had been bothering me with thoughts of the end of my youth, and looks, and potential, and dreams, and future... B.B. had lots of advice for "young people over 50," (especially the men, which included leading them all in a couple rounds of "You Are My Sunshine" to all the ladies in the audience.) To see him up there at EIGHTY-THREE, and despite having to be helped on and off the stage - he's still playing, still singing, still joking around and loving life. And still writing new songs, too! We got to hear his hilarious paean to the wonders of Viagra, and the title-track of his new CD, "One Kind Favor," which he says his kids don't like (as the favor is to keep his grave clean.) Gave me some much-needed perspective and lightening of the heart.

So in the words of B.B. King: "Oh, I like that part, I'ma do it again!" I think that's good advice.