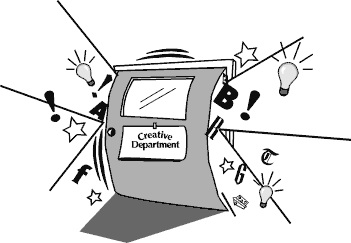 These tips come from the Small World group, collected in a tips contest they had a while back. There are so many that I'm breaking them into a couple of posts, so stay tuned for more!

Accessories & Furniture

Mini Tubes of Paint: Find some photos on the internet of paint in tubes, and use a graphics program to change the labels to various colors and to the right size. Print them out on plain paper and cut out. Use a roll of solder to make the tubes (easily found at any hardware store.) Cut into paint-tube lengths and glue the labels around the solder. Crimp one end to be the bottom of the tube, and glue a black seed bead to the other end for the cap. Drip a little paint just below the lid on a couple of them so they look used. You can find printies for a paint pallet and a sketch pad at Jim's Printies.

Custom Papers & Fabrics: Scrapbook papers, fabric - anything that you can put on your copy machine or scanner can be used to make custom wallpaper or wrapping papers for any occasion. If the design is too large for minis you can reduce it to mini scale in a graphics program.

Iron freezer paper onto white fabric and cut into 8 1/2 x 11-inch sheets that can be fed through your printer to create custom fabrics. You can also buy printable fabric sheets at office-supply and scrapbooking stores, but it can be expensive.

Custom Carpets: Find a picture online of a carpet you like, such as a Persian style rug. Resize in a graphics program if necessary. Print it out onto a t-shirt transfer (available at office-supply stores, Wal-Mart, etc.). Use the kind for light-colored fabrics. Iron the transfer onto the BACK side of a piece of narrow ribbed corduroy. The back of the fabric has vertical weaving that looks very similar to real carpets. Fold the extra fabric on the long sides to the back and fuse it with Wonder-Under. Fray the short sides to make the fringe on the ends. This method gives very realistic results.

Mini Fabric Patterns: If you can't find the right pattern or scale in fabric for a project, check out the wide ribbon. I found wired organdy ribbon in just the right dotted swiss pink to duplicate my childhood bedspread and also found some in "avocado green" to make curtains for the bathroom. The wire is easy to remove if it doesn't work for your project or the ribbon can be gathered on the wire if needed.

Bird Feeder: Use sequins for the top and bottom of a bird feeder. Many things can be used to create the clear tube portion, such as part of a small drinking straw, a section of a clear writing pen or some plastic tubing, or even a bead. Use tiny seeds from your spice rack to fill it with "birdseed."

Furniture Bash: An easy way to dress up cheap furniture is to add some edge molding. If you look at the furniture in your house, you'll notice that on nicer pieces, the top and the bottom pedestal usually have a nice molding edge all the way around. Strips of mini molding (2-3 feet long) are only a dollar or two, it's a good thing to keep on hand. Cove moldings and simple crown moldings can be used to finish off cheaper furnishings, around the top or bottom edges (or center if it's a 2-part piece). Once you paint or stain the entire piece, it'll look like it was made that way.



Plants

Leaves: Peel off green paper from artifical flower stems to use for leaves and also lettuce. The thin green paper that comes in a case of citrus fruit also makes nice plant leaves. A small heart punch makes nice sized philodendron leaves on a floral wire stem.

Dandelions: I scanned dandelion leaves, shrunk them down and painted the back green. Used yellow wire for the stems, made "gone to seed" by dipping the wire in glue and then white flocking.

Flowers: Use your copy machine or scanner to shrink down silk flowers and leaves and print them in the scale you need. Paint the back of them the right color so they are not white. I used a marker. Cut them out and there you go, ready to shape with a stylus and arrange.

Plant Pots: Little clear water bottle lids make great plant pots. You can paint them, or cover them with jute or hemp. Ditto for the lids from Chapsticks and other stick-type lip balms.