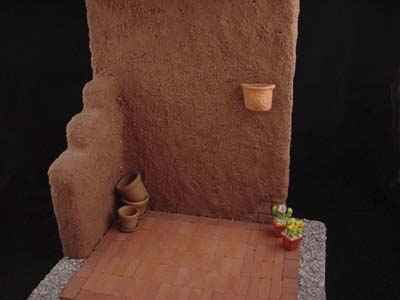 I've been working on a small scene, sort of a stage setting that I can use to photograph items I make for sale, or to display them at shows. It's a typical New Mexican patio, a perfect set-up for showing off chile ristras and what-not. I found a great little wall-hanging terra cotta pot for it, and somehow got my heart set on a geranium to fill it. Alas, I have no skill whatsoever when it comes to plants and flowers, and nice ones tend to be way outside my budget. Luckily, Tallooley (aka Jayne of TalllulahBelle Originals) was up to a challenge, immediately showing her superior knowledge of the whole subject:

Tallooley: Now, do you prefer Pelargonium x hortorum, Pelargonium domesticum, or Pelargonium graveolens? Do you want them to have some rust color on the leaves, or just green? Should they be in bud stage or full flower? I've never made them before, so I hope you're not in a rush - is tomorrow ok?

Me: Ummm... me like red flower... you make red flower?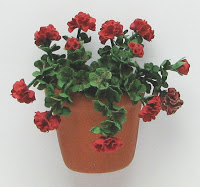 Aren't they gorgeous? There's even a dying one! I can't wait to get them in place.